Seminole Poverty
COMPARE
Seminole
Select to Compare
Poverty
Seminole Poverty Correlation Chart
The statistical analysis conducted on geographies consisting of 118,238,938 people shows a moderate positive correlation between the proportion of Seminole and poverty level in the United States with a correlation coefficient (R) of 0.447 and weighted average of 15.9%. On average, for every 1% (one percent) increase in Seminole within a typical geography, there is an increase of 0.56% in poverty level.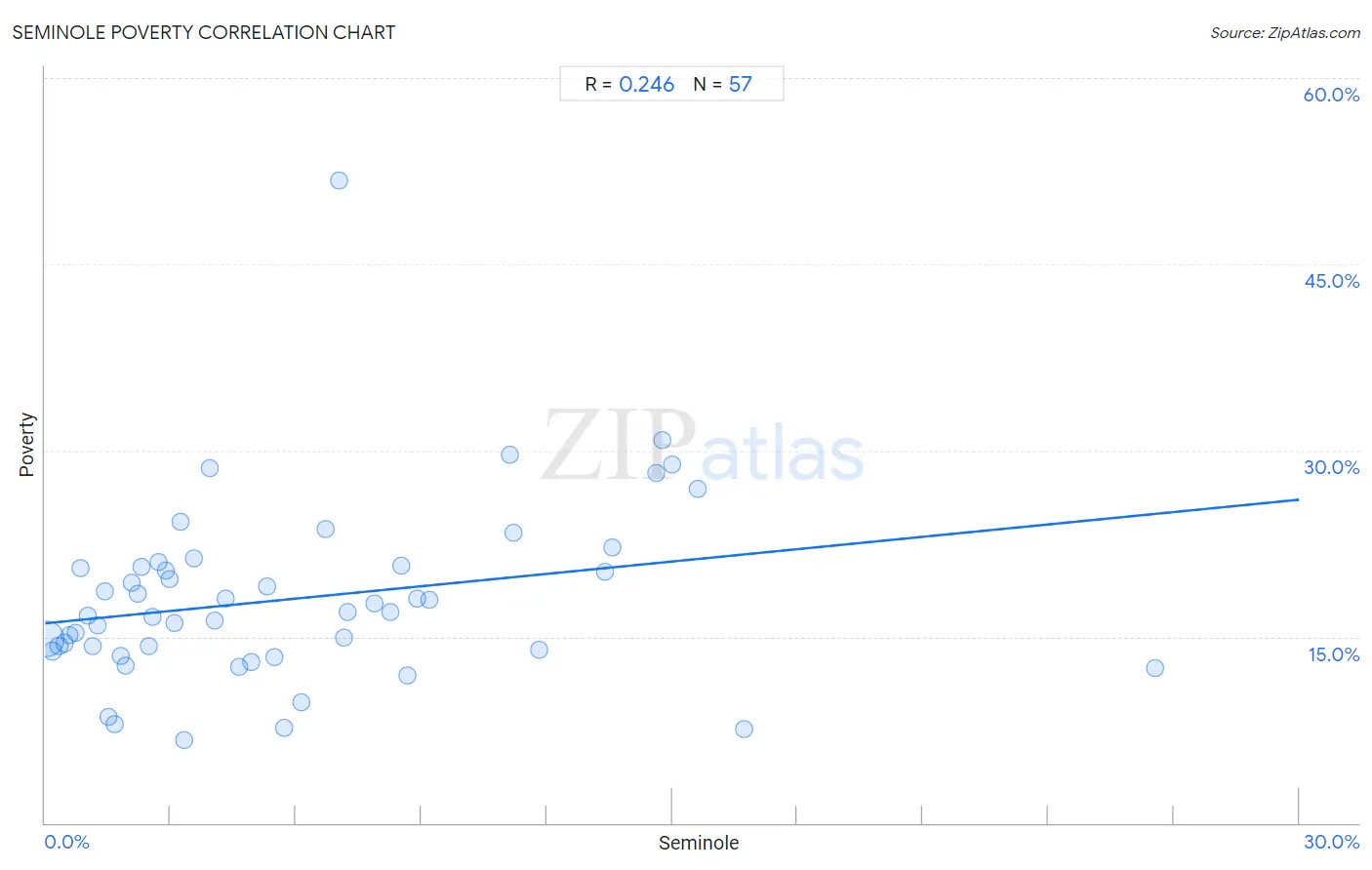 It is essential to understand that the correlation between the percentage of Seminole and poverty level does not imply a direct cause-and-effect relationship. It remains uncertain whether the presence of Seminole influences an upward or downward trend in the level of poverty level within an area, or if Seminole simply ended up residing in those areas with higher or lower levels of poverty level due to other factors.
Demographics Similar to Seminole by Poverty
In terms of poverty, the demographic groups most similar to Seminole are Yaqui (15.9%, a difference of 0.030%), Immigrants from Dominica (15.9%, a difference of 0.12%), Chippewa (15.8%, a difference of 0.54%), Choctaw (15.8%, a difference of 0.65%), and Bahamian (15.8%, a difference of 0.67%).
Seminole Poverty Correlation Summary
| | | |
| --- | --- | --- |
| Measurement | Seminole Data | Poverty Data |
| Minimum | 0.019% | 4.7% |
| Maximum | 19.5% | 34.1% |
| Range | 19.5% | 29.4% |
| Mean | 5.2% | 17.6% |
| Median | 3.4% | 16.6% |
| Interquartile 25% (IQ1) | 1.6% | 14.2% |
| Interquartile 75% (IQ3) | 7.0% | 20.7% |
| Interquartile Range (IQR) | 5.4% | 6.6% |
| Standard Deviation (Sample) | 4.9% | 6.1% |
| Standard Deviation (Population) | 4.8% | 6.1% |
Correlation Details
Seminole Percentile
Sample Size
Poverty

[

0.0%

-

0.5%

]

0.019%

103,076,387
14.9%

[

0.0%

-

0.5%

]

0.13%

7,292,413
14.7%

[

0.0%

-

0.5%

]

0.22%

2,948,197
14.3%

[

0.0%

-

0.5%

]

0.33%

1,971,176
13.7%

[

0.0%

-

0.5%

]

0.40%

859,490
15.0%

[

0.0%

-

0.5%

]

0.50%

527,900
16.0%

[

0.5%

-

1.0%

]

0.58%

319,527
14.8%

[

0.5%

-

1.0%

]

0.66%

172,057
14.5%

[

0.5%

-

1.0%

]

0.77%

195,344
17.7%

[

0.5%

-

1.0%

]

0.87%

127,962
22.0%

[

0.5%

-

1.0%

]

0.94%

86,524
15.5%

[

1.0%

-

1.5%

]

1.05%

33,661
20.2%

[

1.0%

-

1.5%

]

1.11%

43,384
18.6%

[

1.0%

-

1.5%

]

1.24%

94,760
16.7%

[

1.0%

-

1.5%

]

1.29%

25,103
10.1%

[

1.0%

-

1.5%

]

1.37%

103,618
13.5%

[

1.0%

-

1.5%

]

1.47%

25,738
11.7%

[

1.5%

-

2.0%

]

1.58%

40,186
16.6%

[

1.5%

-

2.0%

]

1.65%

11,897
14.3%

[

1.5%

-

2.0%

]

1.75%

16,685
12.2%

[

1.5%

-

2.0%

]

1.82%

30,049
18.0%

[

1.5%

-

2.0%

]

1.93%

880
7.6%

[

1.5%

-

2.0%

]

1.99%

1,610
19.6%

[

2.0%

-

2.5%

]

2.12%

39,186
12.7%

[

2.0%

-

2.5%

]

2.18%

3,851
16.8%

[

2.0%

-

2.5%

]

2.31%

23,222
26.0%

[

2.0%

-

2.5%

]

2.40%

47,171
20.6%

[

2.0%

-

2.5%

]

2.49%

2,089
15.6%

[

2.5%

-

3.0%

]

2.55%

1,844
14.5%

[

2.5%

-

3.0%

]

2.65%

1,096
4.7%

[

2.5%

-

3.0%

]

2.85%

23,342
19.8%

[

2.5%

-

3.0%

]

2.94%

3,876
10.6%

[

2.5%

-

3.0%

]

3.00%

1,334
22.3%

[

3.0%

-

3.5%

]

3.07%

651
13.2%

[

3.0%

-

3.5%

]

3.21%

6,380
15.5%

[

3.0%

-

3.5%

]

3.24%

8,890
16.4%

[

3.0%

-

3.5%

]

3.37%

7,064
21.1%

[

3.0%

-

3.5%

]

3.46%

434
19.9%

[

3.5%

-

4.0%

]

3.65%

5,753
18.9%

[

3.5%

-

4.0%

]

3.81%

2,333
28.4%

[

3.5%

-

4.0%

]

3.89%

437
8.0%

[

4.0%

-

4.5%

]

4.03%

1,987
11.8%

[

4.0%

-

4.5%

]

4.18%

3,903
14.2%

[

4.0%

-

4.5%

]

4.28%

1,520
19.5%

[

4.0%

-

4.5%

]

4.41%

2,905
24.4%

[

4.5%

-

5.0%

]

4.51%

1,817
19.6%

[

4.5%

-

5.0%

]

4.69%

1,662
14.5%

[

4.5%

-

5.0%

]

4.79%

1,379
34.1%

[

4.5%

-

5.0%

]

4.93%

142
17.6%

[

5.0%

-

5.5%

]

5.19%

308
14.7%

[

5.0%

-

5.5%

]

5.31%

226
7.1%

[

5.5%

-

6.0%

]

5.82%

395
7.1%

[

6.0%

-

6.5%

]

6.38%

94
10.6%

[

6.5%

-

7.0%

]

6.78%

177
24.9%

[

6.5%

-

7.0%

]

6.83%

410
19.0%

[

7.0%

-

7.5%

]

7.03%

327
8.6%

[

8.0%

-

8.5%

]

8.08%

904
19.3%

[

8.0%

-

8.5%

]

8.13%

209
13.9%

[

8.5%

-

9.0%

]

8.80%

250
18.0%

[

9.5%

-

10.0%

]

9.64%

1,846
14.6%

[

10.5%

-

11.0%

]

10.99%

1,037
33.2%

[

11.0%

-

11.5%

]

11.11%

198
15.7%

[

11.5%

-

12.0%

]

11.83%

12,421
21.0%

[

12.0%

-

12.5%

]

12.24%

49
22.4%

[

12.5%

-

13.0%

]

12.75%

400
12.2%

[

12.5%

-

13.0%

]

13.00%

5,693
23.8%

[

13.0%

-

13.5%

]

13.08%

3,135
29.5%

[

13.0%

-

13.5%

]

13.25%

166
27.1%

[

13.5%

-

14.0%

]

13.95%

86
22.1%

[

15.0%

-

15.5%

]

15.31%

2,854
20.7%

[

15.0%

-

15.5%

]

15.36%

7,131
27.1%

[

15.5%

-

16.0%

]

15.80%

1,158
26.7%

[

17.5%

-

18.0%

]

17.95%

78
17.9%

[

19.0%

-

19.5%

]

19.47%

570
30.5%