Cuban Poverty
COMPARE
Cuban
Select to Compare
Poverty
Cuban Poverty Correlation Chart
The statistical analysis conducted on geographies consisting of 441,647,180 people shows no correlation between the proportion of Cubans and poverty level in the United States with a correlation coefficient (R) of 0.010 and weighted average of 14.2%. On average, for every 1% (one percent) increase in Cubans within a typical geography, there is an increase of 0.0023% in poverty level.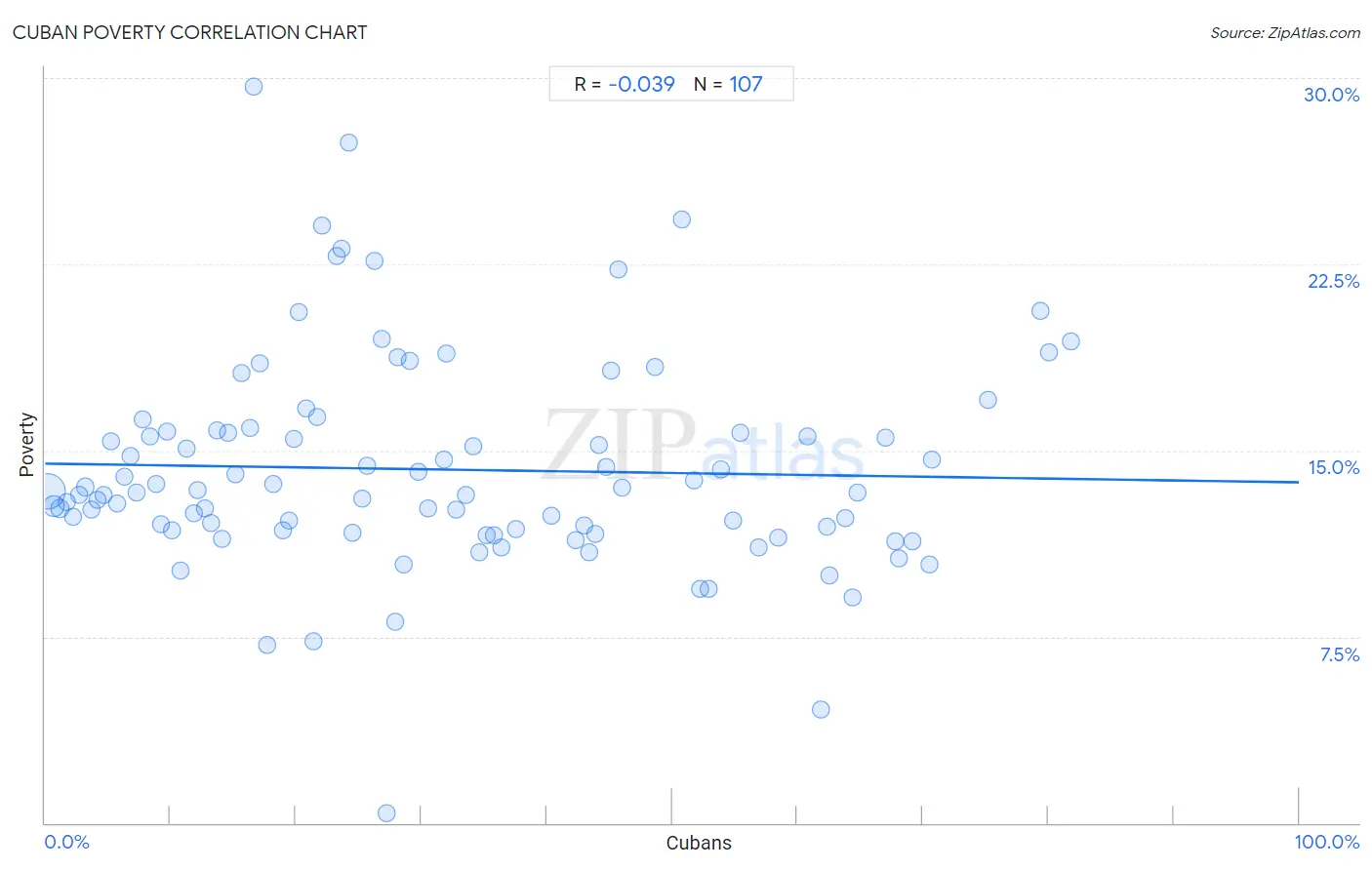 It is essential to understand that the correlation between the percentage of Cubans and poverty level does not imply a direct cause-and-effect relationship. It remains uncertain whether the presence of Cubans influences an upward or downward trend in the level of poverty level within an area, or if Cubans simply ended up residing in those areas with higher or lower levels of poverty level due to other factors.
Demographics Similar to Cubans by Poverty
In terms of poverty, the demographic groups most similar to Cubans are Cape Verdean (14.2%, a difference of 0.070%), Sudanese (14.1%, a difference of 0.12%), Nicaraguan (14.2%, a difference of 0.13%), Trinidadian and Tobagonian (14.2%, a difference of 0.18%), and Immigrants from Trinidad and Tobago (14.2%, a difference of 0.27%).
Cuban Poverty Correlation Summary
| | | |
| --- | --- | --- |
| Measurement | Cuban Data | Poverty Data |
| Minimum | 0.21% | 0.23% |
| Maximum | 83.3% | 31.6% |
| Range | 83.1% | 31.4% |
| Mean | 31.8% | 14.4% |
| Median | 27.7% | 13.8% |
| Interquartile 25% (IQ1) | 13.2% | 11.8% |
| Interquartile 75% (IQ3) | 48.0% | 16.6% |
| Interquartile Range (IQR) | 34.8% | 4.8% |
| Standard Deviation (Sample) | 22.2% | 5.0% |
| Standard Deviation (Population) | 22.1% | 5.0% |
Correlation Details
Cuban Percentile
Sample Size
Poverty

[

0.0%

-

0.5%

]

0.21%

329,006,127
13.4%

[

0.5%

-

1.0%

]

0.69%

58,782,810
12.8%

[

1.0%

-

1.5%

]

1.22%

18,395,707
13.1%

[

1.5%

-

2.0%

]

1.70%

7,882,138
12.4%

[

2.0%

-

2.5%

]

2.23%

5,707,139
13.1%

[

2.5%

-

3.0%

]

2.74%

3,768,374
12.8%

[

3.0%

-

3.5%

]

3.23%

2,705,833
12.3%

[

3.5%

-

4.0%

]

3.71%

2,238,220
14.0%

[

4.0%

-

4.5%

]

4.23%

1,046,464
14.3%

[

4.5%

-

5.0%

]

4.71%

1,046,229
15.0%

[

5.0%

-

5.5%

]

5.31%

840,455
13.8%

[

5.5%

-

6.0%

]

5.71%

411,728
13.9%

[

6.0%

-

6.5%

]

6.18%

305,719
12.1%

[

6.5%

-

7.0%

]

6.78%

595,200
16.5%

[

7.0%

-

7.5%

]

7.40%

232,907
12.2%

[

7.5%

-

8.0%

]

7.81%

692,412
14.6%

[

8.0%

-

8.5%

]

8.27%

271,464
15.3%

[

8.5%

-

9.0%

]

8.73%

435,937
13.6%

[

9.0%

-

9.5%

]

9.25%

371,513
15.9%

[

9.5%

-

10.0%

]

9.74%

369,331
9.6%

[

10.0%

-

10.5%

]

10.12%

146,301
16.3%

[

10.5%

-

11.0%

]

10.66%

70,776
13.8%

[

11.0%

-

11.5%

]

11.37%

176,995
16.6%

[

11.5%

-

12.0%

]

11.76%

143,248
15.3%

[

12.0%

-

12.5%

]

12.31%

391,882
13.0%

[

12.5%

-

13.0%

]

12.80%

134,581
9.5%

[

13.0%

-

13.5%

]

13.19%

251,589
16.9%

[

13.5%

-

14.0%

]

13.70%

22,081
21.2%

[

14.0%

-

14.5%

]

14.35%

95,597
13.5%

[

14.5%

-

15.0%

]

14.81%

186,641
14.5%

[

15.0%

-

15.5%

]

15.09%

186,321
10.1%

[

15.5%

-

16.0%

]

15.84%

62,446
5.0%

[

16.0%

-

16.5%

]

16.18%

103,023
17.7%

[

16.5%

-

17.0%

]

16.73%

32,843
22.7%

[

17.0%

-

17.5%

]

17.26%

27,400
15.2%

[

17.5%

-

18.0%

]

17.79%

76,191
22.2%

[

18.0%

-

18.5%

]

18.30%

59,725
21.5%

[

18.5%

-

19.0%

]

18.85%

170,580
16.7%

[

19.0%

-

19.5%

]

19.25%

90,049
15.0%

[

19.5%

-

20.0%

]

19.78%

21,013
8.4%

[

20.0%

-

20.5%

]

20.15%

11,010
24.8%

[

20.5%

-

21.0%

]

20.80%

84,072
14.0%

[

21.0%

-

21.5%

]

21.35%

50,655
14.2%

[

21.5%

-

22.0%

]

21.80%

130,196
15.5%

[

22.0%

-

22.5%

]

22.21%

16,850
9.0%

[

22.5%

-

23.0%

]

22.83%

101,622
14.9%

[

23.5%

-

24.0%

]

23.63%

128,267
26.5%

[

24.0%

-

24.5%

]

24.35%

18,514
14.3%

[

24.5%

-

25.0%

]

24.89%

8,195
8.6%

[

25.5%

-

26.0%

]

25.79%

69,090
15.9%

[

26.0%

-

26.5%

]

26.27%

33,284
22.4%

[

26.5%

-

27.0%

]

26.76%

12,905
29.1%

[

27.0%

-

27.5%

]

27.40%

45,108
10.2%

[

27.5%

-

28.0%

]

27.71%

75,930
17.6%

[

28.5%

-

29.0%

]

28.80%

72,627
12.0%

[

29.0%

-

29.5%

]

29.44%

49,706
7.7%

[

29.5%

-

30.0%

]

29.92%

68,431
16.9%

[

30.0%

-

30.5%

]

30.05%

436
0.23%

[

30.5%

-

31.0%

]

30.57%

101,047
16.4%

[

31.0%

-

31.5%

]

31.35%

135,079
12.6%

[

31.5%

-

32.0%

]

31.89%

45,123
18.7%

[

32.5%

-

33.0%

]

32.60%

153,759
10.0%

[

33.0%

-

33.5%

]

33.40%

440,807
20.9%

[

33.5%

-

34.0%

]

33.92%

35,239
7.2%

[

34.0%

-

34.5%

]

34.28%

4,906
18.3%

[

34.5%

-

35.0%

]

34.56%

61,461
12.8%

[

35.0%

-

35.5%

]

35.39%

140,737
13.2%

[

35.5%

-

36.0%

]

35.66%

47,591
17.6%

[

37.0%

-

37.5%

]

37.20%

34,367
10.4%

[

37.5%

-

38.0%

]

37.97%

9,438
6.8%

[

39.0%

-

39.5%

]

39.33%

534
31.6%

[

40.5%

-

41.0%

]

40.52%

17,237
10.0%

[

41.5%

-

42.0%

]

41.61%

40,897
11.8%

[

42.0%

-

42.5%

]

42.12%

39,082
7.4%

[

42.5%

-

43.0%

]

42.65%

129,777
13.9%

[

43.5%

-

44.0%

]

43.70%

71,106
13.6%

[

44.0%

-

44.5%

]

44.11%

58,034
12.7%

[

44.5%

-

45.0%

]

44.86%

75,948
12.8%

[

45.0%

-

45.5%

]

45.27%

13,880
10.3%

[

46.0%

-

46.5%

]

46.29%

124,489
20.1%

[

47.5%

-

48.0%

]

47.98%

28,944
11.1%

[

48.0%

-

48.5%

]

48.13%

47,571
14.2%

[

49.0%

-

49.5%

]

49.32%

35,115
25.8%

[

49.5%

-

50.0%

]

49.71%

29,599
8.8%

[

53.0%

-

53.5%

]

53.25%

13,060
9.1%

[

53.5%

-

54.0%

]

53.51%

36,964
15.0%

[

54.0%

-

54.5%

]

54.25%

38,086
13.3%

[

55.0%

-

55.5%

]

55.33%

34,114
15.1%

[

57.5%

-

58.0%

]

57.78%

72,818
13.1%

[

59.0%

-

59.5%

]

59.14%

7,090
14.7%

[

59.5%

-

60.0%

]

59.86%

44,440
12.7%

[

60.0%

-

60.5%

]

60.46%

30,582
6.1%

[

62.0%

-

62.5%

]

62.09%

48,130
17.1%

[

62.5%

-

63.0%

]

62.58%

14,415
11.1%

[

63.5%

-

64.0%

]

63.95%

60,577
9.8%

[

64.5%

-

65.0%

]

64.75%

80,394
12.3%

[

65.0%

-

65.5%

]

65.46%

10,706
9.2%

[

65.5%

-

66.0%

]

65.84%

100,736
12.6%

[

67.5%

-

68.0%

]

67.69%

41,021
15.0%

[

69.0%

-

69.5%

]

69.20%

53,198
10.3%

[

69.5%

-

70.0%

]

69.82%

65,388
11.8%

[

71.0%

-

71.5%

]

71.26%

44,445
12.1%

[

75.0%

-

75.5%

]

75.21%

252,968
17.7%

[

77.5%

-

78.0%

]

77.53%

957
24.7%

[

78.5%

-

79.0%

]

78.82%

42,246
21.0%

[

80.0%

-

80.5%

]

80.06%

70,485
20.4%

[

83.0%

-

83.5%

]

83.27%

30,706
18.0%