Black/African American Median Male Earnings
COMPARE
Black/African American
Select to Compare
Median Male Earnings
Black/African American Median Male Earnings
Black/African American Median Male Earnings Correlation Chart
The statistical analysis conducted on geographies consisting of 559,165,030 people shows a very strong negative correlation between the proportion of Blacks/African Americans and median male earnings in the United States with a correlation coefficient (R) of -0.802 and weighted average of $41,742. On average, for every 1% (one percent) increase in Blacks/African Americans within a typical geography, there is a decrease of $181 in median male earnings.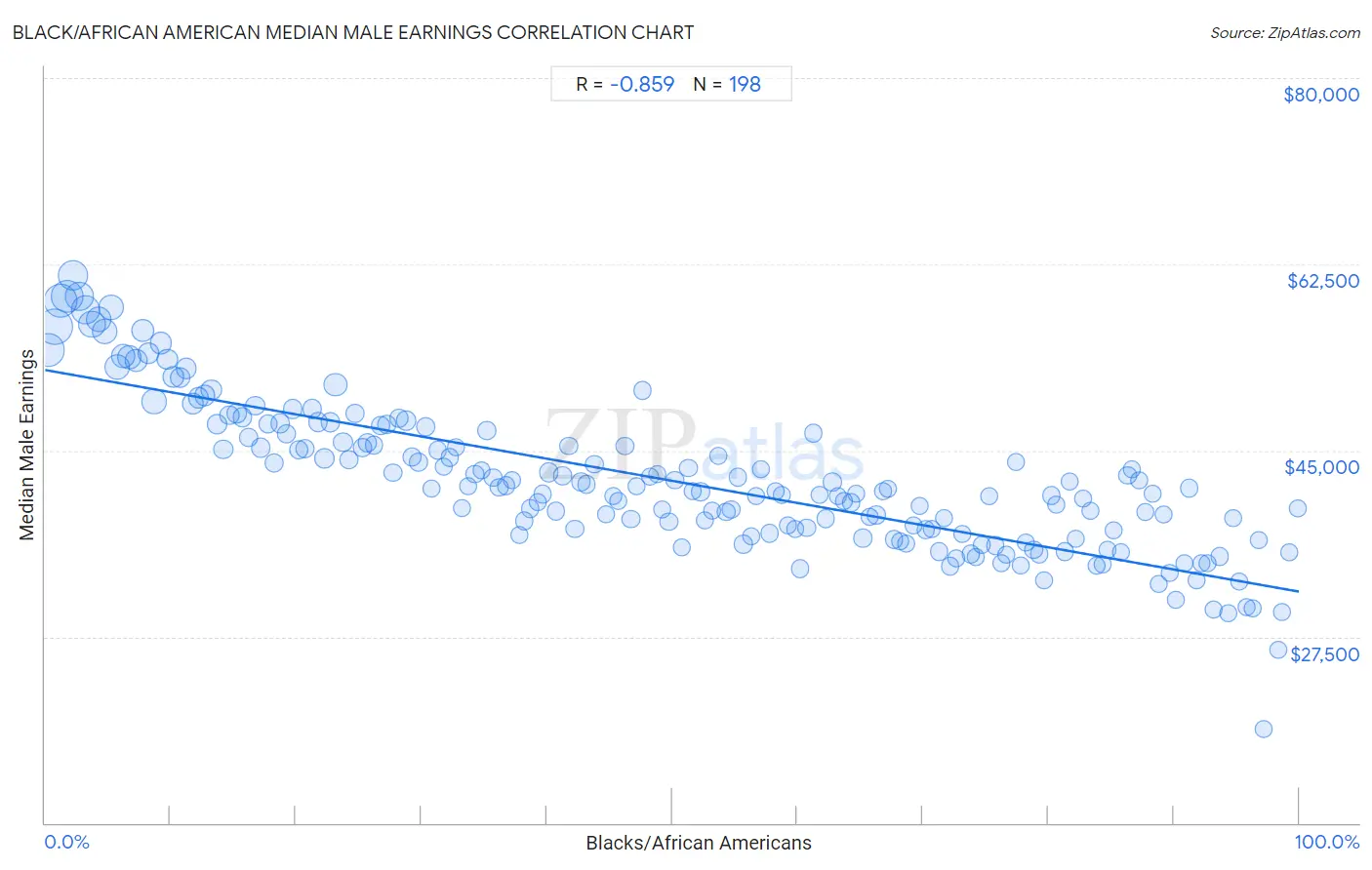 It is essential to understand that the correlation between the percentage of Blacks/African Americans and median male earnings does not imply a direct cause-and-effect relationship. It remains uncertain whether the presence of Blacks/African Americans influences an upward or downward trend in the level of median male earnings within an area, or if Blacks/African Americans simply ended up residing in those areas with higher or lower levels of median male earnings due to other factors.
Demographics Similar to Blacks/African Americans by Median Male Earnings
In terms of median male earnings, the demographic groups most similar to Blacks/African Americans are Haitian ($41,748, a difference of 0.010%), Immigrants from Bahamas ($41,749, a difference of 0.020%), Bhutanese ($41,721, a difference of 0.050%), Cheyenne ($41,774, a difference of 0.070%), and Immigrants from Honduras ($41,778, a difference of 0.090%).
Demographics
Rating | Rank
Median Male Earnings
Hmong

22.9

/100

|

#313

Fair

$42,320

Mexicans

22.6

/100

|

#314

Fair

$42,225

Immigrants from Caribbean

22.3

/100

|

#315

Fair

$42,118

Immigrants from Honduras

21.2

/100

|

#316

Fair

$41,778

Cheyenne

21.2

/100

|

#317

Fair

$41,774

Immigrants from Bahamas

21.2

/100

|

#318

Fair

$41,749

Haitians

21.1

/100

|

#319

Fair

$41,748

Blacks/African Americans

21.1

/100

|

#320

Fair

$41,742

Bhutanese

21.1

/100

|

#321

Fair

$41,721

Immigrants from Central America

20.9

/100

|

#322

Fair

$41,667

Sioux

20.2

/100

|

#323

Fair

$41,425

Immigrants from Haiti

19.9

/100

|

#324

Poor

$41,340

Spanish American Indians

19.9

/100

|

#325

Poor

$41,318

Marshallese

19.8

/100

|

#326

Poor

$41,315

Immigrants from Mexico

19.3

/100

|

#327

Poor

$41,120
Black/African American Median Male Earnings Correlation Summary
| | | |
| --- | --- | --- |
| Measurement | Black/African American Data | Median Male Earnings Data |
| Minimum | 0.27% | $24,192 |
| Maximum | 99.8% | $55,237 |
| Range | 99.5% | $31,045 |
| Mean | 50.0% | $38,849 |
| Median | 50.0% | $37,811 |
| Interquartile 25% (IQ1) | 25.0% | $34,682 |
| Interquartile 75% (IQ3) | 75.0% | $42,420 |
| Interquartile Range (IQR) | 50.0% | $7,739 |
| Standard Deviation (Sample) | 28.9% | $6,534 |
| Standard Deviation (Population) | 28.9% | $6,517 |
Correlation Details
Black/African American Percentile
Sample Size
Median Male Earnings

[

0.0%

-

0.5%

]

0.27%

30,650,026
$49,599

[

0.5%

-

1.0%

]

0.75%

33,763,606
$52,562

[

1.0%

-

1.5%

]

1.24%

33,237,688
$54,607

[

1.5%

-

2.0%

]

1.74%

27,260,004
$55,142

[

2.0%

-

2.5%

]

2.25%

24,746,028
$55,237

[

2.5%

-

3.0%

]

2.76%

22,213,003
$54,884

[

3.0%

-

3.5%

]

3.26%

19,439,751
$52,090

[

3.5%

-

4.0%

]

3.75%

16,209,895
$54,369

[

4.0%

-

4.5%

]

4.26%

14,589,321
$52,549

[

4.5%

-

5.0%

]

4.75%

14,274,601
$51,782

[

5.0%

-

5.5%

]

5.23%

12,590,976
$54,057

[

5.5%

-

6.0%

]

5.74%

12,491,986
$49,466

[

6.0%

-

6.5%

]

6.23%

12,166,012
$49,560

[

6.5%

-

7.0%

]

6.74%

13,676,527
$48,281

[

7.0%

-

7.5%

]

7.25%

9,531,972
$47,624

[

7.5%

-

8.0%

]

7.74%

9,737,127
$51,291

[

8.0%

-

8.5%

]

8.25%

8,061,112
$50,232

[

8.5%

-

9.0%

]

8.73%

13,276,021
$46,624

[

9.0%

-

9.5%

]

9.26%

6,750,987
$52,111

[

9.5%

-

10.0%

]

9.74%

5,958,071
$49,182

[

10.0%

-

10.5%

]

10.23%

5,866,995
$49,483

[

10.5%

-

11.0%

]

10.77%

5,195,089
$47,589

[

11.0%

-

11.5%

]

11.29%

6,645,772
$45,584

[

11.5%

-

12.0%

]

11.76%

6,043,851
$47,560

[

12.0%

-

12.5%

]

12.23%

5,521,680
$48,461

[

12.5%

-

13.0%

]

12.73%

5,086,380
$43,209

[

13.0%

-

13.5%

]

13.26%

5,135,117
$45,879

[

13.5%

-

14.0%

]

13.76%

5,287,941
$44,532

[

14.0%

-

14.5%

]

14.23%

4,082,963
$43,755

[

14.5%

-

15.0%

]

14.73%

3,805,200
$40,419

[

15.0%

-

15.5%

]

15.23%

4,387,430
$44,067

[

15.5%

-

16.0%

]

15.76%

4,080,556
$45,555

[

16.0%

-

16.5%

]

16.22%

3,751,259
$42,173

[

16.5%

-

17.0%

]

16.72%

3,063,697
$39,818

[

17.0%

-

17.5%

]

17.21%

3,144,854
$42,269

[

17.5%

-

18.0%

]

17.77%

3,363,092
$42,716

[

18.0%

-

18.5%

]

18.28%

3,625,184
$41,756

[

18.5%

-

19.0%

]

18.77%

5,065,629
$43,000

[

19.0%

-

19.5%

]

19.27%

2,707,160
$44,436

[

19.5%

-

20.0%

]

19.77%

2,446,911
$44,215

[

20.0%

-

20.5%

]

20.25%

2,253,035
$42,271

[

20.5%

-

21.0%

]

20.78%

2,854,502
$39,984

[

21.0%

-

21.5%

]

21.23%

1,930,863
$40,694

[

21.5%

-

22.0%

]

21.73%

2,575,225
$45,120

[

22.0%

-

22.5%

]

22.27%

3,568,193
$45,800

[

22.5%

-

23.0%

]

22.69%

5,239,457
$40,871

[

23.0%

-

23.5%

]

23.36%

11,724,977
$47,030

[

23.5%

-

24.0%

]

23.76%

2,542,073
$41,161

[

24.0%

-

24.5%

]

24.15%

3,003,724
$41,681

[

24.5%

-

25.0%

]

24.72%

2,492,557
$43,891

[

25.0%

-

25.5%

]

25.20%

1,528,322
$38,394

[

25.5%

-

26.0%

]

25.73%

1,473,256
$42,568

[

26.0%

-

26.5%

]

26.27%

1,263,183
$40,079

[

26.5%

-

27.0%

]

26.68%

2,035,185
$41,775

[

27.0%

-

27.5%

]

27.24%

2,249,866
$40,084

[

27.5%

-

28.0%

]

27.81%

1,542,962
$40,770

[

28.0%

-

28.5%

]

28.22%

1,863,211
$43,629

[

28.5%

-

29.0%

]

28.72%

2,884,875
$41,946

[

29.0%

-

29.5%

]

29.24%

5,069,839
$43,541

[

29.5%

-

30.0%

]

29.74%

1,523,318
$45,709

[

30.0%

-

30.5%

]

30.25%

1,466,308
$38,768

[

30.5%

-

31.0%

]

30.73%

2,243,322
$41,184

[

31.0%

-

31.5%

]

31.28%

701,372
$44,929

[

31.5%

-

32.0%

]

31.74%

1,127,675
$38,520

[

32.0%

-

32.5%

]

32.24%

1,535,102
$42,375

[

32.5%

-

33.0%

]

32.73%

1,017,324
$40,389

[

33.0%

-

33.5%

]

33.26%

1,498,175
$36,953

[

33.5%

-

34.0%

]

33.76%

1,182,727
$39,325

[

34.0%

-

34.5%

]

34.25%

828,473
$36,896

[

34.5%

-

35.0%

]

34.74%

1,410,866
$38,129

[

35.0%

-

35.5%

]

35.20%

1,568,615
$42,186

[

35.5%

-

36.0%

]

35.80%

681,897
$39,602

[

36.0%

-

36.5%

]

36.27%

1,010,431
$36,325

[

36.5%

-

37.0%

]

36.79%

748,698
$39,931

[

37.0%

-

37.5%

]

37.25%

1,124,846
$39,080

[

37.5%

-

38.0%

]

37.76%

525,046
$36,778

[

38.0%

-

38.5%

]

38.26%

1,189,815
$35,629

[

38.5%

-

39.0%

]

38.79%

859,354
$38,464

[

39.0%

-

39.5%

]

39.34%

1,166,496
$35,167

[

39.5%

-

40.0%

]

39.73%

612,871
$35,378

[

40.0%

-

40.5%

]

40.31%

892,016
$36,520

[

40.5%

-

41.0%

]

40.83%

3,236,929
$38,683

[

41.0%

-

41.5%

]

41.25%

845,006
$40,422

[

41.5%

-

42.0%

]

41.79%

817,164
$34,499

[

42.0%

-

42.5%

]

42.35%

893,257
$36,585

[

42.5%

-

43.0%

]

42.79%

834,146
$36,249

[

43.0%

-

43.5%

]

43.21%

892,070
$39,829

[

43.5%

-

44.0%

]

43.77%

675,816
$38,875

[

44.0%

-

44.5%

]

44.21%

688,935
$37,225

[

44.5%

-

45.0%

]

44.72%

1,448,568
$55,194

[

45.0%

-

45.5%

]

45.23%

1,011,416
$37,969

[

45.5%

-

46.0%

]

45.73%

548,945
$40,969

[

46.0%

-

46.5%

]

46.22%

929,235
$39,443

[

46.5%

-

47.0%

]

46.80%

482,453
$39,066

[

47.0%

-

47.5%

]

47.32%

817,036
$36,228

[

47.5%

-

48.0%

]

47.76%

489,549
$37,742

[

48.0%

-

48.5%

]

48.21%

1,371,042
$42,575

[

48.5%

-

49.0%

]

48.70%

315,552
$41,502

[

49.0%

-

49.5%

]

49.25%

923,576
$39,090

[

49.5%

-

50.0%

]

49.73%

568,959
$36,735

[

50.0%

-

50.5%

]

50.23%

401,162
$32,252

[

50.5%

-

51.0%

]

50.72%

657,407
$39,757

[

51.0%

-

51.5%

]

51.30%

489,386
$33,650

[

51.5%

-

52.0%

]

51.77%

385,088
$34,345

[

52.0%

-

52.5%

]

52.25%

493,981
$35,422

[

52.5%

-

53.0%

]

52.70%

600,611
$36,061

[

53.0%

-

53.5%

]

53.27%

783,068
$36,134

[

53.5%

-

54.0%

]

53.72%

612,509
$37,909

[

54.0%

-

54.5%

]

54.25%

497,503
$35,161

[

54.5%

-

55.0%

]

54.75%

450,765
$33,465

[

55.0%

-

55.5%

]

55.26%

394,234
$39,727

[

55.5%

-

56.0%

]

55.71%

413,608
$36,026

[

56.0%

-

56.5%

]

56.33%

338,034
$36,761

[

56.5%

-

57.0%

]

56.75%

840,408
$35,050

[

57.0%

-

57.5%

]

57.16%

168,606
$33,012

[

57.5%

-

58.0%

]

57.76%

641,533
$41,058

[

58.0%

-

58.5%

]

58.19%

662,605
$37,880

[

58.5%

-

59.0%

]

58.70%

329,714
$34,457

[

59.0%

-

59.5%

]

59.25%

197,471
$36,059

[

59.5%

-

60.0%

]

59.76%

547,458
$36,679

[

60.0%

-

60.5%

]

60.26%

336,027
$37,968

[

60.5%

-

61.0%

]

60.78%

474,893
$34,961

[

61.0%

-

61.5%

]

61.26%

225,610
$32,582

[

61.5%

-

62.0%

]

61.67%

1,226,627
$42,465

[

62.0%

-

62.5%

]

62.27%

305,418
$34,659

[

62.5%

-

63.0%

]

62.76%

384,527
$32,963

[

63.0%

-

63.5%

]

63.20%

269,718
$35,614

[

63.5%

-

64.0%

]

63.71%

327,174
$36,069

[

64.0%

-

64.5%

]

64.20%

215,080
$36,022

[

64.5%

-

65.0%

]

64.61%

988,516
$35,294

[

65.0%

-

65.5%

]

65.20%

168,098
$35,210

[

65.5%

-

66.0%

]

65.71%

503,695
$34,678

[

66.0%

-

66.5%

]

66.31%

317,755
$33,707

[

66.5%

-

67.0%

]

66.79%

455,460
$35,285

[

67.0%

-

67.5%

]

67.18%

324,837
$37,146

[

67.5%

-

68.0%

]

67.63%

128,553
$33,148

[

68.0%

-

68.5%

]

68.26%

318,307
$35,566

[

68.5%

-

69.0%

]

68.75%

479,645
$34,972

[

69.0%

-

69.5%

]

69.23%

316,937
$34,348

[

69.5%

-

70.0%

]

69.71%

269,510
$35,223

[

70.0%

-

70.5%

]

70.18%

100,454
$28,171

[

70.5%

-

71.0%

]

70.71%

274,823
$31,485

[

71.0%

-

71.5%

]

71.26%

156,493
$33,868

[

71.5%

-

72.0%

]

71.74%

314,043
$37,310

[

72.0%

-

72.5%

]

72.26%

244,776
$34,032

[

72.5%

-

73.0%

]

72.71%

238,140
$32,857

[

73.0%

-

73.5%

]

73.25%

399,983
$29,609

[

73.5%

-

74.0%

]

73.84%

107,361
$31,410

[

74.0%

-

74.5%

]

74.35%

320,819
$33,712

[

74.5%

-

75.0%

]

74.72%

196,632
$31,647

[

75.0%

-

75.5%

]

75.21%

210,474
$35,982

[

75.5%

-

76.0%

]

75.72%

163,088
$32,427

[

76.0%

-

76.5%

]

76.24%

335,256
$34,685

[

76.5%

-

77.0%

]

76.79%

369,703
$33,345

[

77.0%

-

77.5%

]

77.22%

353,222
$34,955

[

77.5%

-

78.0%

]

77.92%

695,514
$30,051

[

78.0%

-

78.5%

]

78.18%

279,769
$31,093

[

78.5%

-

79.0%

]

78.79%

177,014
$35,104

[

79.0%

-

79.5%

]

79.15%

154,856
$50,076

[

79.5%

-

80.0%

]

79.85%

246,954
$36,941

[

80.0%

-

80.5%

]

80.21%

230,795
$36,139

[

80.5%

-

81.0%

]

80.73%

218,524
$33,827

[

81.0%

-

81.5%

]

81.28%

122,483
$34,885

[

81.5%

-

82.0%

]

81.74%

280,496
$33,175

[

82.0%

-

82.5%

]

82.29%

199,664
$38,441

[

82.5%

-

83.0%

]

82.79%

324,484
$32,688

[

83.0%

-

83.5%

]

83.30%

225,988
$37,417

[

83.5%

-

84.0%

]

83.77%

148,817
$34,797

[

84.0%

-

84.5%

]

84.28%

219,395
$34,255

[

84.5%

-

85.0%

]

84.81%

319,013
$35,406

[

85.0%

-

85.5%

]

85.23%

195,754
$37,936

[

85.5%

-

86.0%

]

85.68%

173,743
$36,276

[

86.0%

-

86.5%

]

86.22%

88,849
$35,148

[

86.5%

-

87.0%

]

86.87%

104,471
$46,132

[

87.0%

-

87.5%

]

87.27%

242,602
$33,517

[

87.5%

-

88.0%

]

87.78%

145,753
$37,440

[

88.0%

-

88.5%

]

88.33%

96,145
$42,505

[

88.5%

-

89.0%

]

88.83%

268,368
$34,542

[

89.0%

-

89.5%

]

89.20%

166,412
$39,047

[

89.5%

-

90.0%

]

89.77%

128,043
$27,370

[

90.0%

-

90.5%

]

90.26%

111,498
$34,828

[

90.5%

-

91.0%

]

90.65%

214,334
$33,309

[

91.0%

-

91.5%

]

91.23%

223,626
$29,901

[

91.5%

-

92.0%

]

91.86%

252,097
$35,250

[

92.0%

-

92.5%

]

92.30%

69,824
$27,240

[

92.5%

-

93.0%

]

92.73%

260,835
$31,635

[

93.0%

-

93.5%

]

93.16%

151,385
$27,781

[

93.5%

-

94.0%

]

93.71%

116,640
$29,853

[

94.0%

-

94.5%

]

94.22%

151,659
$29,505

[

94.5%

-

95.0%

]

94.78%

160,997
$27,724

[

95.0%

-

95.5%

]

95.17%

170,122
$31,299

[

95.5%

-

96.0%

]

95.77%

227,832
$32,471

[

96.0%

-

96.5%

]

96.20%

28,532
$26,291

[

96.5%

-

97.0%

]

96.81%

43,590
$24,938

[

97.0%

-

97.5%

]

97.11%

21,730
$24,192

[

97.5%

-

98.0%

]

97.66%

9,248
$39,485

[

98.0%

-

98.5%

]

98.07%

259
$41,393

[

98.5%

-

99.0%

]

98.68%

21,021
$28,087

[

99.0%

-

99.5%

]

99.15%

5,069
$32,216

[

99.5%

-

100.0%

]

99.78%

12,841
$27,813