Native/Alaskan Median Male Earnings
COMPARE
Native/Alaskan
Select to Compare
Median Male Earnings
Native/Alaskan Median Male Earnings
Native/Alaskan Median Male Earnings Correlation Chart
The statistical analysis conducted on geographies consisting of 504,292,537 people shows a substantial negative correlation between the proportion of Natives/Alaskans and median male earnings in the United States with a correlation coefficient (R) of -0.587 and weighted average of $40,925. On average, for every 1% (one percent) increase in Natives/Alaskans within a typical geography, there is a decrease of $130 in median male earnings.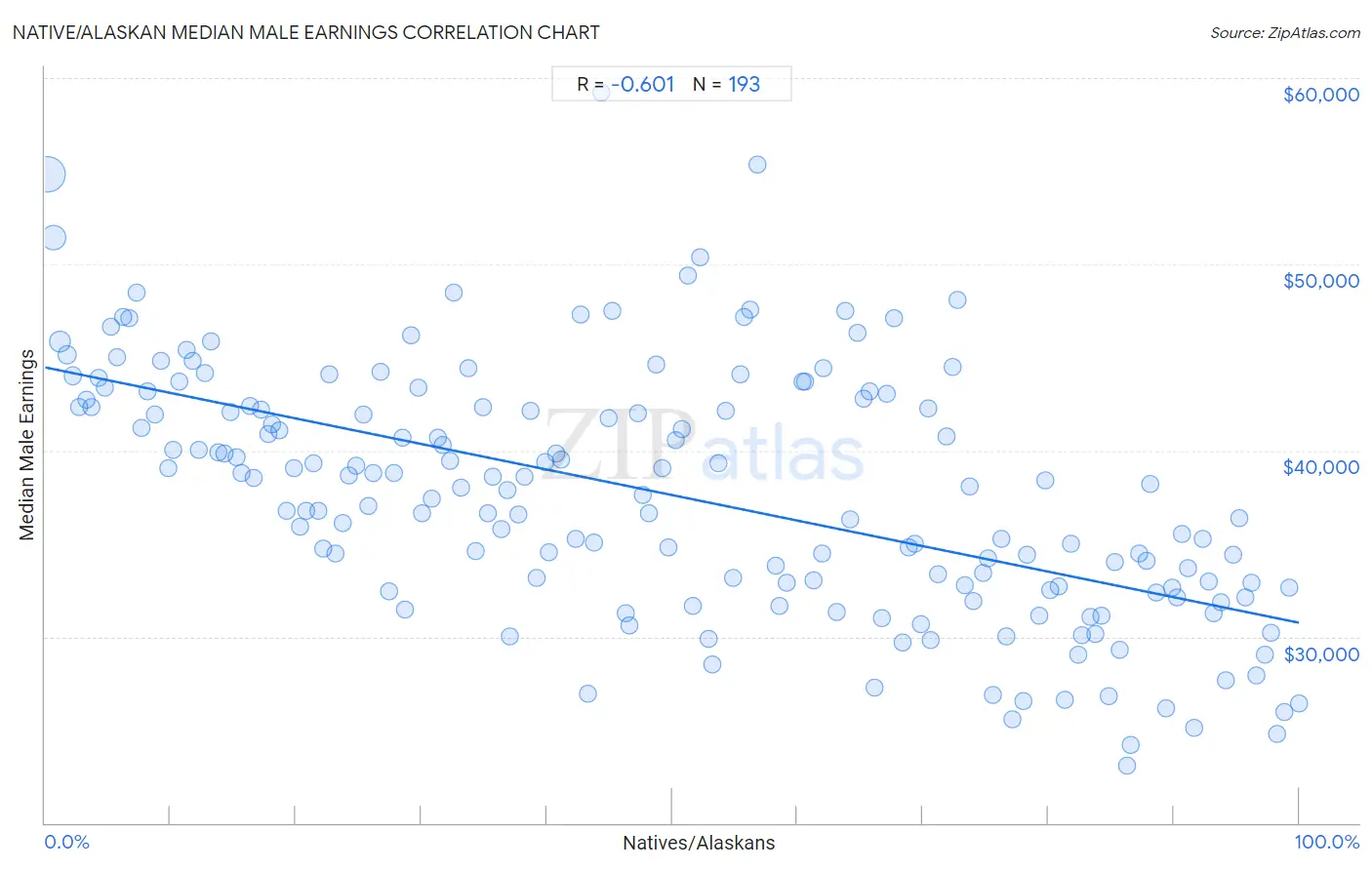 It is essential to understand that the correlation between the percentage of Natives/Alaskans and median male earnings does not imply a direct cause-and-effect relationship. It remains uncertain whether the presence of Natives/Alaskans influences an upward or downward trend in the level of median male earnings within an area, or if Natives/Alaskans simply ended up residing in those areas with higher or lower levels of median male earnings due to other factors.
Demographics Similar to Natives/Alaskans by Median Male Earnings
In terms of median male earnings, the demographic groups most similar to Natives/Alaskans are Yakama ($40,982, a difference of 0.14%), Menominee ($40,786, a difference of 0.34%), Ottawa ($41,068, a difference of 0.35%), Bahamian ($41,111, a difference of 0.45%), and Immigrants from Mexico ($41,120, a difference of 0.48%).
Demographics
Rating | Rank
Median Male Earnings
Immigrants from Haiti

19.9

/100

|

#324

Poor

$41,340

Spanish American Indians

19.9

/100

|

#325

Poor

$41,318

Marshallese

19.8

/100

|

#326

Poor

$41,315

Immigrants from Mexico

19.3

/100

|

#327

Poor

$41,120

Bahamians

19.2

/100

|

#328

Poor

$41,111

Ottawa

19.1

/100

|

#329

Poor

$41,068

Yakama

18.8

/100

|

#330

Poor

$40,982

Natives/Alaskans

18.7

/100

|

#331

Poor

$40,925

Menominee

18.3

/100

|

#332

Poor

$40,786

Immigrants from Congo

17.5

/100

|

#333

Poor

$40,529

Kiowa

16.7

/100

|

#334

Poor

$40,277

Immigrants from Yemen

16.1

/100

|

#335

Poor

$40,060

Immigrants from Cuba

14.5

/100

|

#336

Poor

$39,548

Yuman

13.8

/100

|

#337

Poor

$39,301

Arapaho

11.9

/100

|

#338

Poor

$38,670
Native/Alaskan Median Male Earnings Correlation Summary
| | | |
| --- | --- | --- |
| Measurement | Native/Alaskan Data | Median Male Earnings Data |
| Minimum | 0.22% | $13,750 |
| Maximum | 99.9% | $53,165 |
| Range | 99.7% | $39,415 |
| Mean | 49.6% | $34,563 |
| Median | 48.4% | $34,333 |
| Interquartile 25% (IQ1) | 24.3% | $29,734 |
| Interquartile 75% (IQ3) | 75.7% | $38,818 |
| Interquartile Range (IQR) | 51.4% | $9,084 |
| Standard Deviation (Sample) | 29.3% | $6,481 |
| Standard Deviation (Population) | 29.2% | $6,464 |
Correlation Details
Native/Alaskan Percentile
Sample Size
Median Male Earnings

[

0.0%

-

0.5%

]

0.22%

294,343,780
$50,209

[

0.5%

-

1.0%

]

0.70%

122,038,093
$46,367

[

1.0%

-

1.5%

]

1.20%

39,441,267
$42,675

[

1.5%

-

2.0%

]

1.71%

16,074,154
$41,017

[

2.0%

-

2.5%

]

2.20%

9,429,232
$39,382

[

2.5%

-

3.0%

]

2.72%

3,578,177
$40,422

[

3.0%

-

3.5%

]

3.25%

4,387,325
$39,275

[

3.5%

-

4.0%

]

3.73%

1,558,197
$40,536

[

4.0%

-

4.5%

]

4.22%

1,699,683
$40,651

[

4.5%

-

5.0%

]

4.70%

2,523,292
$41,392

[

5.0%

-

5.5%

]

5.21%

989,659
$38,432

[

5.5%

-

6.0%

]

5.78%

776,655
$40,808

[

6.0%

-

6.5%

]

6.24%

618,105
$40,767

[

6.5%

-

7.0%

]

6.76%

412,944
$42,891

[

7.0%

-

7.5%

]

7.26%

860,813
$46,600

[

7.5%

-

8.0%

]

7.79%

265,144
$40,867

[

8.0%

-

8.5%

]

8.33%

331,168
$38,818

[

8.5%

-

9.0%

]

8.78%

250,912
$36,980

[

9.0%

-

9.5%

]

9.21%

462,732
$37,614

[

9.5%

-

10.0%

]

9.79%

175,712
$38,306

[

10.0%

-

10.5%

]

10.19%

252,689
$44,535

[

10.5%

-

11.0%

]

10.71%

110,484
$39,122

[

11.0%

-

11.5%

]

11.32%

168,294
$43,187

[

11.5%

-

12.0%

]

11.74%

151,528
$37,998

[

12.0%

-

12.5%

]

12.24%

144,870
$37,736

[

12.5%

-

13.0%

]

12.80%

90,265
$36,397

[

13.0%

-

13.5%

]

13.21%

91,258
$38,051

[

13.5%

-

14.0%

]

13.79%

213,159
$37,636

[

14.0%

-

14.5%

]

14.28%

119,080
$37,679

[

14.5%

-

15.0%

]

14.82%

64,611
$39,184

[

15.0%

-

15.5%

]

15.29%

104,573
$34,436

[

15.5%

-

16.0%

]

15.67%

100,901
$37,571

[

16.0%

-

16.5%

]

16.24%

95,816
$38,273

[

16.5%

-

17.0%

]

16.84%

109,021
$38,454

[

17.0%

-

17.5%

]

17.28%

122,152
$36,673

[

17.5%

-

18.0%

]

17.78%

83,835
$37,570

[

18.0%

-

18.5%

]

18.23%

46,307
$33,307

[

18.5%

-

19.0%

]

18.64%

103,722
$35,766

[

19.0%

-

19.5%

]

19.30%

60,408
$35,859

[

19.5%

-

20.0%

]

19.76%

38,716
$37,962

[

20.0%

-

20.5%

]

20.22%

30,963
$37,254

[

20.5%

-

21.0%

]

20.68%

76,310
$34,061

[

21.0%

-

21.5%

]

21.29%

35,679
$37,706

[

21.5%

-

22.0%

]

21.72%

39,260
$33,395

[

22.0%

-

22.5%

]

22.19%

18,451
$35,686

[

22.5%

-

23.0%

]

22.78%

24,161
$35,600

[

23.0%

-

23.5%

]

23.30%

6,798
$40,208

[

23.5%

-

24.0%

]

23.73%

26,666
$34,640

[

24.0%

-

24.5%

]

24.33%

28,795
$31,854

[

24.5%

-

25.0%

]

24.76%

11,440
$34,295

[

25.0%

-

25.5%

]

25.13%

11,797
$29,013

[

25.5%

-

26.0%

]

25.78%

13,077
$40,501

[

26.0%

-

26.5%

]

26.27%

20,750
$36,596

[

26.5%

-

27.0%

]

26.63%

25,707
$35,100

[

27.0%

-

27.5%

]

27.11%

61,493
$36,175

[

27.5%

-

28.0%

]

27.75%

2,238
$39,250

[

28.0%

-

28.5%

]

28.32%

12,260
$35,321

[

28.5%

-

29.0%

]

28.56%

8,581
$43,243

[

29.0%

-

29.5%

]

29.23%

6,210
$45,512

[

29.5%

-

30.0%

]

29.77%

5,022
$39,598

[

30.0%

-

30.5%

]

30.09%

14,305
$34,584

[

30.5%

-

31.0%

]

30.69%

21,877
$36,614

[

31.0%

-

31.5%

]

31.24%

59,462
$35,982

[

31.5%

-

32.0%

]

31.92%

11,221
$38,938

[

32.0%

-

32.5%

]

32.31%

17,090
$44,960

[

32.5%

-

33.0%

]

32.85%

8,822
$38,156

[

33.0%

-

33.5%

]

33.34%

7,646
$30,767

[

33.5%

-

34.0%

]

33.80%

7,038
$32,026

[

34.0%

-

34.5%

]

34.08%

5,774
$37,126

[

34.5%

-

35.0%

]

34.79%

4,358
$32,352

[

35.0%

-

35.5%

]

35.11%

40,070
$34,307

[

35.5%

-

36.0%

]

35.86%

6,771
$34,222

[

36.0%

-

36.5%

]

36.24%

17,573
$33,860

[

36.5%

-

37.0%

]

36.69%

5,688
$37,105

[

37.0%

-

37.5%

]

37.11%

8,994
$35,728

[

37.5%

-

38.0%

]

37.70%

2,544
$33,968

[

38.0%

-

38.5%

]

38.43%

13,241
$31,720

[

38.5%

-

39.0%

]

38.75%

6,362
$32,267

[

39.0%

-

39.5%

]

39.35%

7,807
$33,027

[

39.5%

-

40.0%

]

39.64%

2,891
$32,631

[

40.0%

-

40.5%

]

40.27%

5,542
$45,792

[

40.5%

-

41.0%

]

40.79%

15,559
$27,122

[

41.0%

-

41.5%

]

41.23%

6,195
$41,269

[

41.5%

-

42.0%

]

41.83%

2,319
$28,175

[

42.0%

-

42.5%

]

42.49%

8,005
$28,116

[

42.5%

-

43.0%

]

42.63%

3,340
$36,706

[

43.0%

-

43.5%

]

43.37%

5,658
$35,077

[

43.5%

-

44.0%

]

43.51%

678
$40,114

[

44.0%

-

44.5%

]

44.32%

8,686
$34,718

[

44.5%

-

45.0%

]

44.76%

8,576
$32,632

[

45.0%

-

45.5%

]

45.33%

589
$37,725

[

45.5%

-

46.0%

]

45.56%

23,134
$34,522

[

46.0%

-

46.5%

]

46.27%

2,079
$40,433

[

46.5%

-

47.0%

]

46.79%

4,187
$31,278

[

47.0%

-

47.5%

]

47.20%

39,759
$33,933

[

47.5%

-

48.0%

]

47.88%

7,147
$31,181

[

48.0%

-

48.5%

]

48.15%

7,518
$30,457

[

48.5%

-

49.0%

]

48.62%

1,481
$35,605

[

49.0%

-

49.5%

]

49.26%

2,363
$34,320

[

49.5%

-

50.0%

]

49.72%

3,021
$26,216

[

50.0%

-

50.5%

]

50.07%

8,254
$31,663

[

50.5%

-

51.0%

]

50.55%

2,641
$35,932

[

51.0%

-

51.5%

]

51.19%

1,385
$33,745

[

51.5%

-

52.0%

]

51.63%

368
$33,728

[

52.0%

-

52.5%

]

52.34%

2,564
$42,151

[

52.5%

-

53.0%

]

52.84%

13,238
$30,987

[

53.0%

-

53.5%

]

53.43%

6,384
$35,970

[

53.5%

-

54.0%

]

53.76%

6,044
$34,653

[

54.5%

-

55.0%

]

54.82%

2,083
$45,403

[

55.0%

-

55.5%

]

55.27%

731
$39,933

[

55.5%

-

56.0%

]

55.66%

10,551
$41,501

[

56.0%

-

56.5%

]

56.12%

18,112
$28,059

[

56.5%

-

57.0%

]

56.84%

15,645
$27,541

[

57.0%

-

57.5%

]

57.34%

4,137
$53,165

[

57.5%

-

58.0%

]

57.85%

4,930
$33,627

[

58.5%

-

59.0%

]

58.81%

3,365
$42,074

[

59.0%

-

59.5%

]

59.07%

2,851
$45,449

[

59.5%

-

60.0%

]

59.56%

1,909
$34,346

[

60.0%

-

60.5%

]

60.18%

2,943
$37,721

[

60.5%

-

61.0%

]

60.73%

2,824
$32,288

[

61.5%

-

62.0%

]

61.70%

1,329
$35,637

[

62.0%

-

62.5%

]

62.45%

2,490
$37,593

[

62.5%

-

63.0%

]

62.75%

9,063
$48,052

[

63.0%

-

63.5%

]

63.18%

25,023
$39,996

[

63.5%

-

64.0%

]

63.74%

1,310
$52,239

[

64.0%

-

64.5%

]

64.07%

11,176
$34,284

[

64.5%

-

65.0%

]

64.65%

13,031
$27,270

[

65.0%

-

65.5%

]

65.18%

7,422
$48,864

[

65.5%

-

66.0%

]

65.55%

3,062
$40,115

[

66.0%

-

66.5%

]

66.29%

89
$23,750

[

67.0%

-

67.5%

]

67.21%

5,569
$48,453

[

67.5%

-

68.0%

]

67.56%

1,079
$33,125

[

68.5%

-

69.0%

]

68.88%

17,691
$30,750

[

69.0%

-

69.5%

]

69.32%

88
$13,750

[

69.5%

-

70.0%

]

69.95%

1,787
$29,734

[

70.5%

-

71.0%

]

70.75%

971
$33,231

[

71.0%

-

71.5%

]

71.06%

11,035
$43,584

[

71.5%

-

72.0%

]

71.84%

7,269
$27,123

[

72.0%

-

72.5%

]

72.36%

22,113
$30,112

[

72.5%

-

73.0%

]

72.95%

1,719
$29,153

[

73.0%

-

73.5%

]

73.49%

630
$40,833

[

73.5%

-

74.0%

]

73.64%

5,625
$28,956

[

74.0%

-

74.5%

]

74.22%

2,048
$45,556

[

74.5%

-

75.0%

]

74.67%

1,970
$34,019

[

75.0%

-

75.5%

]

75.38%

3,127
$31,247

[

75.5%

-

76.0%

]

75.72%

5,581
$28,117

[

76.0%

-

76.5%

]

76.19%

3,579
$43,018

[

76.5%

-

77.0%

]

76.65%

10,069
$27,093

[

77.0%

-

77.5%

]

77.21%

2,835
$33,245

[

77.5%

-

78.0%

]

77.65%

7,611
$23,340

[

78.0%

-

78.5%

]

78.27%

1,077
$26,748

[

78.5%

-

79.0%

]

78.67%

10,641
$23,717

[

79.0%

-

79.5%

]

79.23%

4,941
$30,245

[

79.5%

-

80.0%

]

79.67%

3,281
$24,530

[

80.0%

-

80.5%

]

80.28%

4,899
$24,933

[

80.5%

-

81.0%

]

80.82%

1,851
$26,230

[

81.0%

-

81.5%

]

81.24%

4,450
$25,598

[

81.5%

-

82.0%

]

81.85%

4,335
$28,161

[

82.0%

-

82.5%

]

82.28%

8,650
$28,579

[

82.5%

-

83.0%

]

82.72%

9,190
$27,023

[

83.0%

-

83.5%

]

83.29%

5,584
$29,272

[

83.5%

-

84.0%

]

83.74%

12,000
$29,860

[

84.0%

-

84.5%

]

84.23%

2,537
$31,074

[

84.5%

-

85.0%

]

84.79%

7,891
$30,677

[

85.0%

-

85.5%

]

85.13%

2,327
$26,677

[

85.5%

-

86.0%

]

85.94%

9,842
$27,583

[

86.0%

-

86.5%

]

86.25%

2,443
$27,943

[

86.5%

-

87.0%

]

86.75%

9,442
$32,937

[

87.0%

-

87.5%

]

87.26%

8,023
$32,995

[

87.5%

-

88.0%

]

87.69%

10,057
$26,578

[

88.0%

-

88.5%

]

88.20%

7,331
$25,971

[

88.5%

-

89.0%

]

88.63%

5,917
$26,787

[

89.0%

-

89.5%

]

89.21%

12,710
$28,807

[

89.5%

-

90.0%

]

89.71%

10,974
$26,584

[

90.0%

-

90.5%

]

90.24%

28,497
$32,962

[

90.5%

-

91.0%

]

90.74%

7,549
$25,777

[

91.0%

-

91.5%

]

91.24%

12,406
$29,481

[

91.5%

-

92.0%

]

91.75%

20,289
$28,525

[

92.0%

-

92.5%

]

92.29%

20,482
$25,963

[

92.5%

-

93.0%

]

92.74%

11,092
$29,158

[

93.0%

-

93.5%

]

93.23%

25,255
$30,928

[

93.5%

-

94.0%

]

93.72%

53,956
$30,288

[

94.0%

-

94.5%

]

94.26%

11,715
$29,621

[

94.5%

-

95.0%

]

94.80%

40,885
$30,882

[

95.0%

-

95.5%

]

95.26%

30,838
$30,314

[

95.5%

-

96.0%

]

95.84%

11,000
$22,790

[

96.0%

-

96.5%

]

96.24%

18,547
$28,139

[

96.5%

-

97.0%

]

96.68%

25,245
$28,158

[

97.0%

-

97.5%

]

97.36%

24,037
$23,812

[

97.5%

-

98.0%

]

97.69%

33,946
$29,856

[

98.0%

-

98.5%

]

98.29%

15,365
$22,225

[

98.5%

-

99.0%

]

98.76%

19,249
$20,348

[

99.0%

-

99.5%

]

99.24%

14,893
$25,839

[

99.5%

-

100.0%

]

99.95%

29,787
$26,379