Assyrian/Chaldean/Syriac Median Family Income
COMPARE
Assyrian/Chaldean/Syriac
Select to Compare
Median Family Income
Assyrian/Chaldean/Syriac Median Family Income
Assyrian/Chaldean/Syriac Median Family Income Correlation Chart
The statistical analysis conducted on geographies consisting of 108,205,552 people shows a poor negative correlation between the proportion of Assyrians/Chaldeans/Syriacs and median family income in the United States with a correlation coefficient (R) of -0.132 and weighted average of $98,975. On average, for every 1% (one percent) increase in Assyrians/Chaldeans/Syriacs within a typical geography, there is a decrease of $969 in median family income.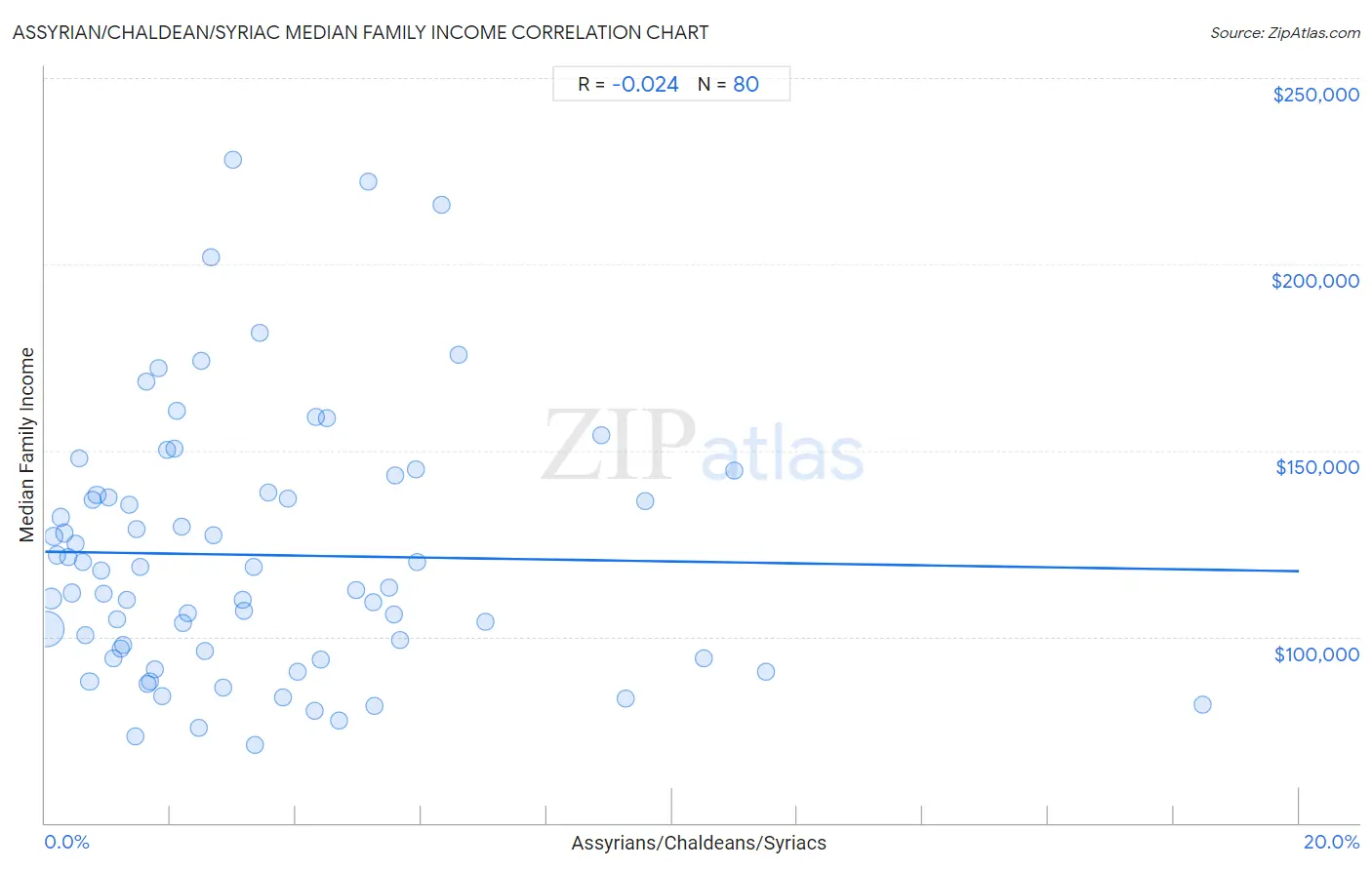 It is essential to understand that the correlation between the percentage of Assyrians/Chaldeans/Syriacs and median family income does not imply a direct cause-and-effect relationship. It remains uncertain whether the presence of Assyrians/Chaldeans/Syriacs influences an upward or downward trend in the level of median family income within an area, or if Assyrians/Chaldeans/Syriacs simply ended up residing in those areas with higher or lower levels of median family income due to other factors.
Demographics Similar to Assyrians/Chaldeans/Syriacs by Median Family Income
In terms of median family income, the demographic groups most similar to Assyrians/Chaldeans/Syriacs are Immigrants from Saudi Arabia ($98,913, a difference of 0.060%), Ethiopian ($99,069, a difference of 0.10%), Immigrants from Uganda ($99,089, a difference of 0.12%), Tongan ($98,806, a difference of 0.17%), and Chilean ($98,790, a difference of 0.19%).
Demographics
Rating | Rank
Median Family Income
Poles

57.7

/100

|

#118

Average

$99,574

Europeans

57.5

/100

|

#119

Average

$99,494

Immigrants from Western Asia

57.5

/100

|

#120

Average

$99,468

Immigrants from Zimbabwe

57.5

/100

|

#121

Average

$99,437

Immigrants from Philippines

57.3

/100

|

#122

Average

$99,362

Immigrants from Uganda

56.9

/100

|

#123

Average

$99,089

Ethiopians

56.9

/100

|

#124

Average

$99,069

Assyrians/Chaldeans/Syriacs

56.7

/100

|

#125

Average

$98,975

Immigrants from Saudi Arabia

56.7

/100

|

#126

Average

$98,913

Tongans

56.5

/100

|

#127

Average

$98,806

Chileans

56.5

/100

|

#128

Average

$98,790

Brazilians

56.4

/100

|

#129

Average

$98,749

Vietnamese

56.4

/100

|

#130

Average

$98,721

Arabs

55.8

/100

|

#131

Average

$98,337

Immigrants from Jordan

55.7

/100

|

#132

Average

$98,331
Assyrian/Chaldean/Syriac Median Family Income Correlation Summary
| | | |
| --- | --- | --- |
| Measurement | Assyrian/Chaldean/Syriac Data | Median Family Income Data |
| Minimum | 0.019% | $64,293 |
| Maximum | 20.0% | $207,429 |
| Range | 20.0% | $143,136 |
| Mean | 3.5% | $106,677 |
| Median | 2.5% | $105,646 |
| Interquartile 25% (IQ1) | 1.1% | $87,688 |
| Interquartile 75% (IQ3) | 5.0% | $123,007 |
| Interquartile Range (IQR) | 3.8% | $35,319 |
| Standard Deviation (Sample) | 3.6% | $26,083 |
| Standard Deviation (Population) | 3.5% | $25,888 |
Correlation Details
Assyrian/Chaldean/Syriac Percentile
Sample Size
Median Family Income

[

0.0%

-

0.5%

]

0.019%

77,922,345
$93,080

[

0.0%

-

0.5%

]

0.096%

14,557,014
$101,882

[

0.0%

-

0.5%

]

0.17%

4,709,594
$116,760

[

0.0%

-

0.5%

]

0.24%

2,423,748
$105,646

[

0.0%

-

0.5%

]

0.30%

2,056,210
$122,502

[

0.0%

-

0.5%

]

0.39%

803,301
$119,539

[

0.0%

-

0.5%

]

0.45%

720,096
$106,763

[

0.5%

-

1.0%

]

0.53%

438,092
$105,394

[

0.5%

-

1.0%

]

0.60%

405,476
$112,877

[

0.5%

-

1.0%

]

0.66%

223,335
$88,810

[

0.5%

-

1.0%

]

0.72%

155,105
$134,280

[

0.5%

-

1.0%

]

0.82%

109,007
$130,045

[

0.5%

-

1.0%

]

0.87%

338,009
$110,869

[

0.5%

-

1.0%

]

0.92%

367,881
$88,001

[

0.5%

-

1.0%

]

0.98%

151,106
$123,007

[

1.0%

-

1.5%

]

1.07%

97,540
$123,455

[

1.0%

-

1.5%

]

1.13%

201,376
$93,190

[

1.0%

-

1.5%

]

1.20%

139,720
$108,708

[

1.0%

-

1.5%

]

1.29%

73,887
$96,942

[

1.0%

-

1.5%

]

1.36%

167,864
$127,514

[

1.0%

-

1.5%

]

1.44%

126,318
$89,025

[

1.0%

-

1.5%

]

1.50%

14,887
$64,293

[

1.5%

-

2.0%

]

1.54%

67,325
$124,406

[

1.5%

-

2.0%

]

1.62%

27,141
$111,696

[

1.5%

-

2.0%

]

1.72%

23,000
$116,054

[

1.5%

-

2.0%

]

1.79%

39,227
$137,801

[

1.5%

-

2.0%

]

1.83%

5,789
$134,878

[

1.5%

-

2.0%

]

1.91%

119,727
$108,281

[

1.5%

-

2.0%

]

1.96%

28,227
$113,929

[

2.0%

-

2.5%

]

2.05%

1,072
$70,893

[

2.0%

-

2.5%

]

2.20%

25,601
$101,311

[

2.0%

-

2.5%

]

2.22%

89,948
$75,484

[

2.0%

-

2.5%

]

2.39%

158,924
$77,713

[

2.0%

-

2.5%

]

2.47%

1,778
$161,477

[

2.5%

-

3.0%

]

2.55%

57,438
$68,279

[

2.5%

-

3.0%

]

2.57%

116,804
$111,454

[

2.5%

-

3.0%

]

2.73%

68,082
$105,044

[

2.5%

-

3.0%

]

2.79%

17,767
$95,501

[

2.5%

-

3.0%

]

2.98%

4,401
$94,830

[

3.0%

-

3.5%

]

3.08%

82,607
$114,807

[

3.0%

-

3.5%

]

3.15%

30,591
$85,361

[

3.0%

-

3.5%

]

3.21%

15,251
$207,429

[

3.0%

-

3.5%

]

3.37%

2,790
$157,107

[

3.0%

-

3.5%

]

3.43%

48,452
$131,610

[

3.0%

-

3.5%

]

3.46%

30,971
$87,595

[

3.5%

-

4.0%

]

3.57%

476
$76,250

[

3.5%

-

4.0%

]

3.67%

23,878
$99,255

[

3.5%

-

4.0%

]

3.68%

22,019
$121,332

[

4.0%

-

4.5%

]

4.47%

60,222
$72,393

[

4.5%

-

5.0%

]

4.81%

29,238
$85,593

[

4.5%

-

5.0%

]

4.96%

140,190
$73,270

[

4.5%

-

5.0%

]

5.00%

139,938
$88,959

[

5.0%

-

5.5%

]

5.13%

28,416
$79,203

[

5.0%

-

5.5%

]

5.41%

26,716
$112,500

[

5.5%

-

6.0%

]

5.76%

37,941
$113,230

[

6.0%

-

6.5%

]

6.03%

22,000
$134,783

[

6.0%

-

6.5%

]

6.13%

27,637
$74,321

[

6.0%

-

6.5%

]

6.32%

45,694
$101,695

[

6.5%

-

7.0%

]

6.92%

9,450
$128,068

[

7.0%

-

7.5%

]

7.13%

16,816
$161,048

[

7.5%

-

8.0%

]

8.00%

37,296
$90,010

[

8.5%

-

9.0%

]

8.87%

32,861
$125,462

[

9.0%

-

9.5%

]

9.35%

34,666
$77,326

[

9.5%

-

10.0%

]

9.67%

21,286
$87,688

[

11.5%

-

12.0%

]

11.78%

134,062
$83,436

[

13.5%

-

14.0%

]

13.85%

5,963
$131,821

[

20.0%

-

20.5%

]

20.03%

43,963
$74,185