Native/Alaskan Unemployment
COMPARE
Native/Alaskan
Select to Compare
Unemployment
Native/Alaskan Unemployment
Native/Alaskan Unemployment Correlation Chart
The statistical analysis conducted on geographies consisting of 503,444,604 people shows a strong positive correlation between the proportion of Natives/Alaskans and unemployment in the United States with a correlation coefficient (R) of 0.760 and weighted average of 7.4%. On average, for every 1% (one percent) increase in Natives/Alaskans within a typical geography, there is an increase of 0.14% in unemployment.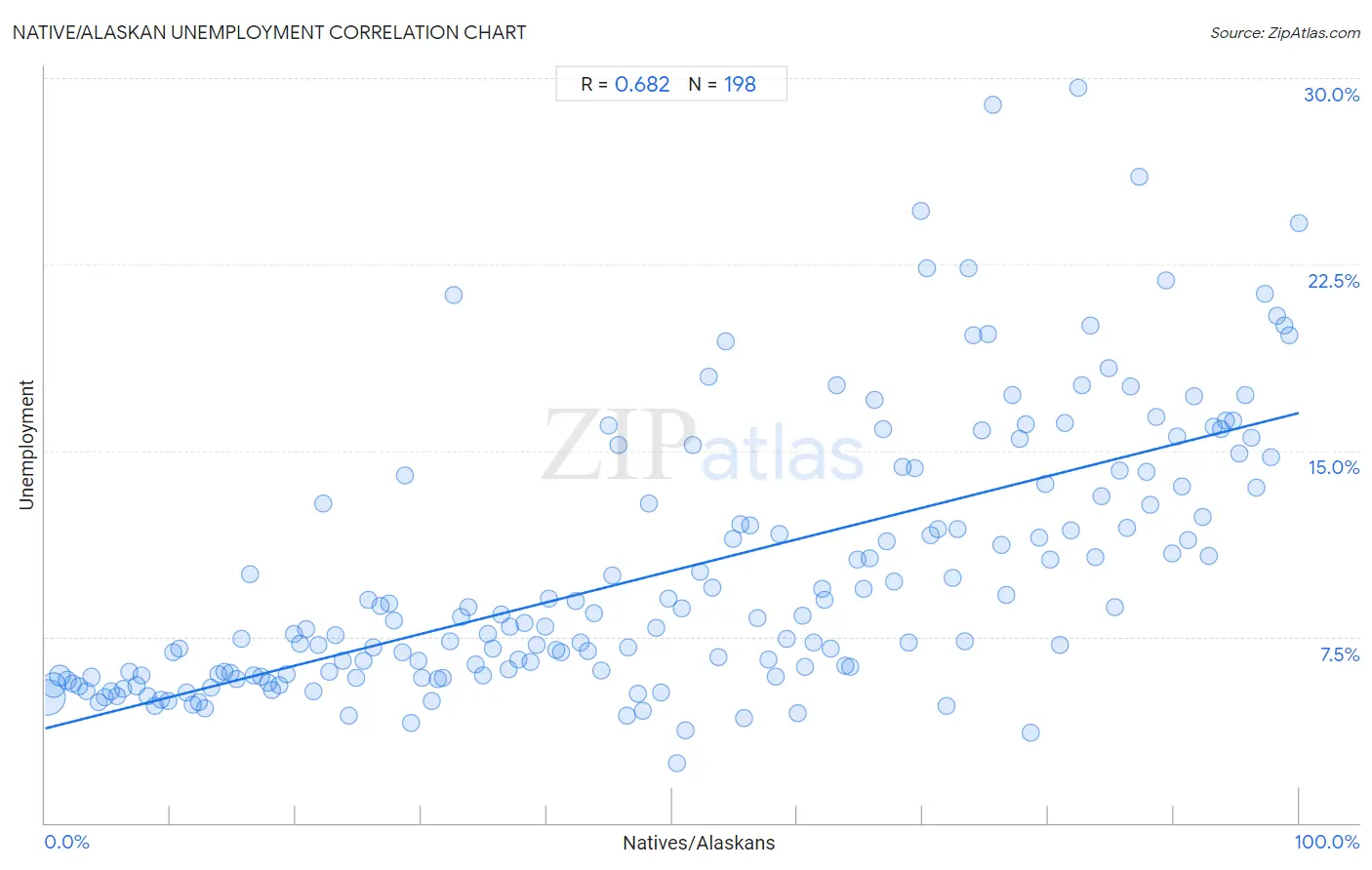 It is essential to understand that the correlation between the percentage of Natives/Alaskans and unemployment does not imply a direct cause-and-effect relationship. It remains uncertain whether the presence of Natives/Alaskans influences an upward or downward trend in the level of unemployment within an area, or if Natives/Alaskans simply ended up residing in those areas with higher or lower levels of unemployment due to other factors.
Demographics Similar to Natives/Alaskans by Unemployment
In terms of unemployment, the demographic groups most similar to Natives/Alaskans are Dominican (7.4%, a difference of 0.58%), Shoshone (7.3%, a difference of 0.79%), Immigrants from Dominican Republic (7.4%, a difference of 0.81%), Pueblo (7.6%, a difference of 2.9%), and Colville (7.1%, a difference of 3.6%).
Native/Alaskan Unemployment Correlation Summary
| | | |
| --- | --- | --- |
| Measurement | Native/Alaskan Data | Unemployment Data |
| Minimum | 0.22% | 3.1% |
| Maximum | 100.0% | 30.3% |
| Range | 99.7% | 27.2% |
| Mean | 50.0% | 10.6% |
| Median | 49.7% | 8.6% |
| Interquartile 25% (IQ1) | 24.5% | 6.4% |
| Interquartile 75% (IQ3) | 75.5% | 14.4% |
| Interquartile Range (IQR) | 51.0% | 8.0% |
| Standard Deviation (Sample) | 29.2% | 5.3% |
| Standard Deviation (Population) | 29.1% | 5.3% |
Correlation Details
Native/Alaskan Percentile
Sample Size
Unemployment

[

0.0%

-

0.5%

]

0.22%

294,050,508
5.2%

[

0.5%

-

1.0%

]

0.70%

121,856,653
5.7%

[

1.0%

-

1.5%

]

1.20%

39,343,953
6.0%

[

1.5%

-

2.0%

]

1.71%

16,002,406
5.7%

[

2.0%

-

2.5%

]

2.20%

9,387,541
5.5%

[

2.5%

-

3.0%

]

2.72%

3,535,945
5.6%

[

3.0%

-

3.5%

]

3.25%

4,374,084
5.6%

[

3.5%

-

4.0%

]

3.73%

1,535,545
6.2%

[

4.0%

-

4.5%

]

4.22%

1,677,284
5.0%

[

4.5%

-

5.0%

]

4.70%

2,507,962
5.1%

[

5.0%

-

5.5%

]

5.21%

981,521
5.4%

[

5.5%

-

6.0%

]

5.79%

766,063
4.8%

[

6.0%

-

6.5%

]

6.24%

609,868
6.0%

[

6.5%

-

7.0%

]

6.76%

417,388
6.5%

[

7.0%

-

7.5%

]

7.26%

855,122
5.2%

[

7.5%

-

8.0%

]

7.79%

257,854
5.5%

[

8.0%

-

8.5%

]

8.33%

328,748
6.3%

[

8.5%

-

9.0%

]

8.77%

245,331
6.1%

[

9.0%

-

9.5%

]

9.21%

461,808
5.9%

[

9.5%

-

10.0%

]

9.79%

174,308
4.9%

[

10.0%

-

10.5%

]

10.19%

248,784
4.5%

[

10.5%

-

11.0%

]

10.71%

107,353
7.8%

[

11.0%

-

11.5%

]

11.32%

165,348
5.0%

[

11.5%

-

12.0%

]

11.74%

147,112
5.7%

[

12.0%

-

12.5%

]

12.24%

142,854
6.5%

[

12.5%

-

13.0%

]

12.81%

87,724
6.1%

[

13.0%

-

13.5%

]

13.21%

88,912
6.8%

[

13.5%

-

14.0%

]

13.79%

212,485
6.1%

[

14.0%

-

14.5%

]

14.28%

118,875
6.4%

[

14.5%

-

15.0%

]

14.82%

64,931
6.1%

[

15.0%

-

15.5%

]

15.29%

103,978
6.4%

[

15.5%

-

16.0%

]

15.67%

103,954
6.2%

[

16.0%

-

16.5%

]

16.24%

96,700
5.4%

[

16.5%

-

17.0%

]

16.84%

111,607
6.4%

[

17.0%

-

17.5%

]

17.28%

123,340
6.5%

[

17.5%

-

18.0%

]

17.78%

83,310
5.0%

[

18.0%

-

18.5%

]

18.23%

46,894
8.2%

[

18.5%

-

19.0%

]

18.64%

100,395
5.9%

[

19.0%

-

19.5%

]

19.30%

59,281
5.7%

[

19.5%

-

20.0%

]

19.77%

38,744
5.8%

[

20.0%

-

20.5%

]

20.22%

30,809
6.6%

[

20.5%

-

21.0%

]

20.68%

76,732
8.6%

[

21.0%

-

21.5%

]

21.29%

34,398
4.9%

[

21.5%

-

22.0%

]

21.73%

38,872
6.3%

[

22.0%

-

22.5%

]

22.19%

18,451
7.3%

[

22.5%

-

23.0%

]

22.78%

24,187
8.1%

[

23.0%

-

23.5%

]

23.30%

5,786
6.7%

[

23.5%

-

24.0%

]

23.73%

26,963
7.1%

[

24.0%

-

24.5%

]

24.33%

28,795
6.4%

[

24.5%

-

25.0%

]

24.75%

11,182
9.0%

[

25.0%

-

25.5%

]

25.12%

11,580
7.7%

[

25.5%

-

26.0%

]

25.78%

13,174
8.0%

[

26.0%

-

26.5%

]

26.27%

19,941
7.7%

[

26.5%

-

27.0%

]

26.62%

24,066
7.0%

[

27.0%

-

27.5%

]

27.11%

60,913
6.2%

[

27.5%

-

28.0%

]

27.73%

2,207
6.1%

[

28.0%

-

28.5%

]

28.33%

11,602
5.3%

[

28.5%

-

29.0%

]

28.58%

9,039
8.9%

[

29.0%

-

29.5%

]

29.21%

7,082
14.4%

[

29.5%

-

30.0%

]

29.79%

5,590
6.7%

[

30.0%

-

30.5%

]

30.08%

13,496
8.4%

[

30.5%

-

31.0%

]

30.68%

21,849
8.6%

[

31.0%

-

31.5%

]

31.24%

59,836
6.5%

[

31.5%

-

32.0%

]

31.93%

11,085
7.1%

[

32.0%

-

32.5%

]

32.30%

17,594
4.4%

[

32.5%

-

33.0%

]

32.85%

8,672
7.6%

[

33.0%

-

33.5%

]

33.35%

6,965
7.8%

[

33.5%

-

34.0%

]

33.80%

7,038
5.4%

[

34.0%

-

34.5%

]

34.08%

5,774
9.1%

[

34.5%

-

35.0%

]

34.79%

4,519
6.6%

[

35.0%

-

35.5%

]

35.08%

36,905
6.6%

[

35.5%

-

36.0%

]

35.86%

6,771
10.6%

[

36.0%

-

36.5%

]

36.24%

17,667
7.8%

[

36.5%

-

37.0%

]

36.69%

5,606
6.3%

[

37.0%

-

37.5%

]

37.11%

8,994
8.4%

[

37.5%

-

38.0%

]

37.70%

2,544
7.1%

[

38.0%

-

38.5%

]

38.42%

13,480
8.6%

[

38.5%

-

39.0%

]

38.75%

6,362
8.4%

[

39.0%

-

39.5%

]

39.40%

4,206
10.5%

[

39.5%

-

40.0%

]

39.75%

4,865
6.4%

[

40.0%

-

40.5%

]

40.25%

4,358
6.8%

[

40.5%

-

41.0%

]

40.79%

15,466
7.5%

[

41.0%

-

41.5%

]

41.23%

5,171
4.5%

[

41.5%

-

42.0%

]

41.69%

1,053
8.4%

[

42.0%

-

42.5%

]

42.49%

8,005
5.4%

[

42.5%

-

43.0%

]

42.63%

3,101
7.6%

[

43.0%

-

43.5%

]

43.38%

5,161
8.9%

[

44.0%

-

44.5%

]

44.30%

7,760
7.7%

[

44.5%

-

45.0%

]

44.76%

8,576
5.3%

[

45.0%

-

45.5%

]

45.29%

393
10.1%

[

45.5%

-

46.0%

]

45.56%

23,140
6.3%

[

46.0%

-

46.5%

]

46.34%

1,571
10.0%

[

46.5%

-

47.0%

]

46.78%

4,104
13.2%

[

47.0%

-

47.5%

]

47.20%

38,943
6.7%

[

47.5%

-

48.0%

]

47.88%

7,300
12.6%

[

48.0%

-

48.5%

]

48.16%

7,403
11.0%

[

48.5%

-

49.0%

]

48.68%

1,820
10.1%

[

49.0%

-

49.5%

]

49.31%

1,738
9.3%

[

49.5%

-

50.0%

]

49.70%

3,026
8.9%

[

50.0%

-

50.5%

]

50.07%

8,254
15.5%

[

50.5%

-

51.0%

]

50.55%

2,554
8.5%

[

51.0%

-

51.5%

]

51.19%

1,385
20.7%

[

51.5%

-

52.0%

]

51.79%

112
8.3%

[

52.0%

-

52.5%

]

52.34%

3,082
8.1%

[

52.5%

-

53.0%

]

52.85%

12,530
4.6%

[

53.0%

-

53.5%

]

53.43%

6,030
8.1%

[

53.5%

-

54.0%

]

53.76%

6,044
14.3%

[

54.5%

-

55.0%

]

54.84%

2,965
10.5%

[

55.0%

-

55.5%

]

55.27%

731
16.4%

[

55.5%

-

56.0%

]

55.68%

12,306
14.5%

[

56.0%

-

56.5%

]

56.11%

17,163
6.6%

[

56.5%

-

57.0%

]

56.84%

15,800
11.7%

[

57.0%

-

57.5%

]

57.32%

4,445
12.3%

[

57.5%

-

58.0%

]

57.85%

4,930
10.9%

[

58.5%

-

59.0%

]

58.81%

3,486
10.8%

[

59.0%

-

59.5%

]

59.07%

2,851
9.5%

[

59.5%

-

60.0%

]

59.56%

1,919
11.7%

[

60.0%

-

60.5%

]

60.18%

2,943
8.1%

[

60.5%

-

61.0%

]

60.73%

3,328
7.2%

[

61.0%

-

61.5%

]

61.04%

1,173
17.0%

[

61.5%

-

62.0%

]

61.71%

1,225
8.0%

[

62.0%

-

62.5%

]

62.44%

2,641
15.6%

[

62.5%

-

63.0%

]

62.74%

8,688
6.6%

[

63.0%

-

63.5%

]

63.18%

25,023
10.8%

[

63.5%

-

64.0%

]

63.74%

1,310
5.7%

[

64.0%

-

64.5%

]

64.07%

11,176
10.1%

[

64.5%

-

65.0%

]

64.65%

13,031
10.0%

[

65.0%

-

65.5%

]

65.18%

7,143
8.9%

[

65.5%

-

66.0%

]

65.52%

2,790
16.6%

[

66.0%

-

66.5%

]

66.45%

313
5.7%

[

66.5%

-

67.0%

]

66.67%

36
12.5%

[

67.0%

-

67.5%

]

67.21%

5,569
11.9%

[

67.5%

-

68.0%

]

67.56%

1,079
13.0%

[

68.0%

-

68.5%

]

68.12%

3,199
5.9%

[

68.5%

-

69.0%

]

68.88%

17,749
10.0%

[

69.0%

-

69.5%

]

69.32%

88
11.1%

[

69.5%

-

70.0%

]

69.95%

1,787
16.0%

[

70.0%

-

70.5%

]

70.47%

149
26.3%

[

70.5%

-

71.0%

]

70.75%

971
4.8%

[

71.0%

-

71.5%

]

71.06%

11,007
9.3%

[

71.5%

-

72.0%

]

71.84%

7,269
10.4%

[

72.0%

-

72.5%

]

72.36%

21,824
8.5%

[

72.5%

-

73.0%

]

72.91%

1,964
3.1%

[

73.0%

-

73.5%

]

73.49%

630
21.1%

[

73.5%

-

74.0%

]

73.64%

5,625
14.4%

[

74.0%

-

74.5%

]

74.20%

2,105
16.1%

[

74.5%

-

75.0%

]

74.69%

2,276
20.9%

[

75.0%

-

75.5%

]

75.36%

3,340
14.7%

[

75.5%

-

76.0%

]

75.72%

5,581
17.2%

[

76.0%

-

76.5%

]

76.23%

4,292
30.3%

[

76.5%

-

77.0%

]

76.65%

10,069
15.1%

[

77.0%

-

77.5%

]

77.20%

3,022
16.3%

[

77.5%

-

78.0%

]

77.65%

7,745
19.7%

[

78.0%

-

78.5%

]

78.26%

1,472
13.4%

[

78.5%

-

79.0%

]

78.67%

11,079
15.7%

[

79.0%

-

79.5%

]

79.21%

4,583
21.0%

[

79.5%

-

80.0%

]

79.67%

3,281
20.7%

[

80.0%

-

80.5%

]

80.28%

4,549
17.0%

[

80.5%

-

81.0%

]

80.83%

2,066
17.7%

[

81.0%

-

81.5%

]

81.23%

4,305
11.9%

[

81.5%

-

82.0%

]

81.83%

4,783
14.0%

[

82.0%

-

82.5%

]

82.28%

8,650
18.5%

[

82.5%

-

83.0%

]

82.69%

10,964
16.0%

[

83.0%

-

83.5%

]

83.31%

6,140
11.2%

[

83.5%

-

84.0%

]

83.74%

12,915
17.6%

[

84.0%

-

84.5%

]

84.23%

2,537
16.3%

[

84.5%

-

85.0%

]

84.79%

7,891
8.8%

[

85.0%

-

85.5%

]

85.12%

2,574
18.0%

[

85.5%

-

86.0%

]

85.94%

11,989
13.7%

[

86.0%

-

86.5%

]

86.24%

2,777
16.8%

[

86.5%

-

87.0%

]

86.74%

10,242
11.8%

[

87.0%

-

87.5%

]

87.27%

10,038
16.3%

[

87.5%

-

88.0%

]

87.69%

10,353
20.8%

[

88.0%

-

88.5%

]

88.20%

7,331
19.5%

[

88.5%

-

89.0%

]

88.64%

7,837
16.4%

[

89.0%

-

89.5%

]

89.22%

13,614
13.5%

[

89.5%

-

90.0%

]

89.71%

10,974
19.5%

[

90.0%

-

90.5%

]

90.25%

24,461
17.1%

[

90.5%

-

91.0%

]

90.74%

7,777
28.8%

[

91.0%

-

91.5%

]

91.21%

14,600
17.9%

[

91.5%

-

92.0%

]

91.75%

20,788
13.8%

[

92.0%

-

92.5%

]

92.29%

19,831
18.1%

[

92.5%

-

93.0%

]

92.74%

11,243
10.7%

[

93.0%

-

93.5%

]

93.18%

22,153
13.3%

[

93.5%

-

94.0%

]

93.72%

53,557
13.4%

[

94.0%

-

94.5%

]

94.26%

11,715
12.8%

[

94.5%

-

95.0%

]

94.81%

43,288
15.0%

[

95.0%

-

95.5%

]

95.26%

30,485
17.4%

[

95.5%

-

96.0%

]

95.82%

12,084
17.6%

[

96.0%

-

96.5%

]

96.24%

18,547
17.0%

[

96.5%

-

97.0%

]

96.68%

26,711
16.6%

[

97.0%

-

97.5%

]

97.36%

24,379
18.1%

[

97.5%

-

98.0%

]

97.69%

36,331
13.7%

[

98.0%

-

98.5%

]

98.30%

17,455
21.9%

[

98.5%

-

99.0%

]

98.75%

20,839
20.5%

[

99.0%

-

99.5%

]

99.22%

16,513
19.1%

[

99.5%

-

100.0%

]

99.95%

37,997
23.0%